PE
Highworth Warneford offers a high-quality physical education curriculum, which inspires all pupils to succeed and excel in competitive sport and other physically-demanding activities. We aim to provide opportunities for pupils to become physically confident in a way, which supports their health and fitness.
Overall Aims
The national curriculum for physical education aims to ensure that all pupils:
develop competence to excel in a broad range of physical activities
are physically active for sustained periods of time
engage in competitive sports and activities
lead healthy, active lives.
Range of Activities
KS3
Pupils receive 4 hours of PE over a two-week timetable covering a variety of activities
Rugby
Football
Netball
Basketball
Hockey
Gymnastics
Dance
Softball
Badminton
Tennis
Cricket
Rounders
Handball
Athletics
Gaelic Football
Lacrosse
Health Related
Exercise
KS4
Pupils get the opportunity to choose their activity options, which they participate in for 1 hour a week.
| | | | |
| --- | --- | --- | --- |
| Rugby | Football | Netball | Basketball |
| Hockey | Table Tennis | Dance | Volleyball |
| Badminton | Tennis | Cricket | Rounders |
| Handball | Handball Gymnastics | Athletics | Fitness |
| Trampolining | Cheerleading | | |
Inter-House matches are held in different sports throughout the year, as well as a Year 7 swimming gala and Sports Day in the summer term. Numerous extra-curricular activities and competitive fixtures are offered at lunch times and after school to further improve students' skill development and promote a healthy active lifestyle.
We offer a number of Physical Education trips including football and netball tours and a ski trip.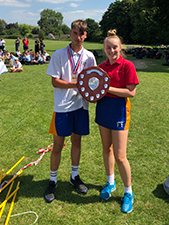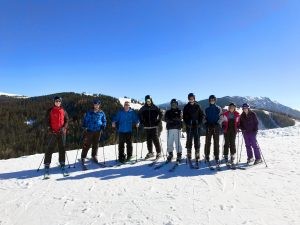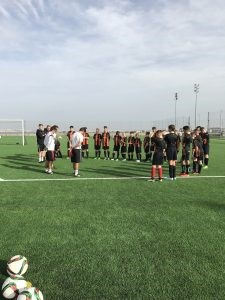 Examination PE
GCSE PE (AQA - specification 8582)
The Course
The GCSE course has been designed to:-
Inspire learning.
Contain new and engaging topics.
Be manageable for schools and colleges.
Give an ideal foundation in order to progress to A Level PE or Sports Studies
Programme of study and assessment
Practical performance = 40% Written Examinations = 60%
There are two written papers that include a variety of questions including:-
Multiple choice questions
Short answer questions
Extended answer questions
(Each exam is 1 ¼ hours)
Pupils will learn the key theory linked to each of the sports chosen to be assessed in as well as the following topics:-
Exam 1 (30%)
Applied anatomy and physiology
Movement analysis
Physical training
Use of data
Exam 2 (30%)
Sports psychology
Socio-Cultural influences
Health, fitness and well-being
Use of data
Practical component
This will be assessed over three different activities. You will be assessed as a performer ONLY. One activity must be a team game, one must be an individual activity and the third could be either. The list of activities for this new course has been greatly reduced from previous years.
In these activities, pupils will be assessed in isolated skills and drills practises as well as in a full game situation.
If pupils are not strong performer in three activities then this is not the course for them.
Controlled Assessment
As part of their practical assessments, pupils have to complete an analysis and evaluation of performance for one of their assessed activities. We prepare for this in Year 10 and complete the assessment in Year 11.
BTEC Sport Year 11
The BTEC Level 2 Certificate in Sport is a course designed to give learners the opportunity to gain a broad knowledge of health, fitness and leadership.
It is an ideal course for students who do not excel practically, but like the theory behind the practise.
The topics that will be covered are:
fitness for sport and exercise (exam)
practical sports performance
leading sports activities
psychology in sport
Pupils will have five lessons of BTEC over 2 weeks.
Assessment
There is an exam in unit 1 (fitness for sport and exercise) which is worth 25% of their overall marks. However, students must pass this exam to pass the course (equivalent to a C grade or above). The rest of the assessments are done through coursework tasks. If they have enough points to gain a level 2 award, the more points they achieve will determine how they are graded – a pass, merit or distinction.
The level 2 award is equivalent to one GCSE grade A*-C.
OCR Level 1/2 Cambridge National Certificate in Sport Studies
Who is this qualification for?
This qualification is for students aged 14–16 who wish to develop applied knowledge and practical skills in Sports Studies.
What will the student study as part of this qualification?
All students will study two, mandatory, topics. The first topic of study is on contemporary issues in sport. This topic covers: issues relating to participation levels including potential barriers to participation, the promotion of values and ethical behaviour through sport, the role of high-profile sporting events and features such as legacy, investment, benefits and drawbacks, the role of national governing bodies in sport and their impact on wider society.
The second topic of study is on developing sports skills.
Students will learn how to:
Develop their skills and techniques and improve their use of tactics and strategies in an individual and in a team sporting activity, apply different practice methods to improve their performance, officiate in a sporting activity, in a number of different roles. In addition, students will have a choice of two optional topics to study from a selection covering: the planning, delivery and review of a safe and effective sports session through their role as a sports leader, the relationship between sport and the media, and the positive and negative effects the media can have careers in the sports industry, what requirements students will need to access the sector, and how economic, social and health factors impact the sports industry.
Knowledge and skills will be developed through the delivery of the following units:
The units that we could cover are:
(Only 4 units required)
– Developing sports skills
– Sports leadership
– Contemporary issues in sport
– Sport and the media
– Working in the sports industry
Which subjects will complement this course?
The Cambridge National Certificate in Sport is equivalent in size to a GCSE and will take 120 guided learning hours (GLH) to deliver. The qualification is complemented by a wide range of GCSEs, including Biology, Sociology, Chemistry, Maths and English. This qualification is part of a larger suite of Level 1/2 Cambridge Nationals in Sports Studies.