Exam Results
GCSE Exam Results Summer 2020
We are delighted by the GCSE results achieved by the class of 2020.
Despite a challenging summer term under covid restrictions, we were pleased that all pupils were awarded the grades that they deserved in recognition of all their hard work.
https://www.swindonadvertiser.co.uk/news/18665668.pictures-pupils-celebrating-2020-gcse-grades/
2020 Headline measures
| | |
| --- | --- |
| Attainment 8 (A8) | 52.74 |
| Progress 8 (using 2019 coefficients) | +0.26 |
| Basics (English & Maths) Grade 9-4 | 80% |
| Basics (English & Maths) Grade 9-5 | 55% |
| Entering EBacc | 34% |
| Achieving EBacc 4+ | 29% |
| Achieving EBacc 5+ | 20% |
| EBacc APS | 4.61 |
Please follow this link for specific information on Highworth Warneford School performance data from 2019 HWS 2019 Performance Data
Please follow this link for performance data on all Swindon schools for 2019 Swindon Schools' Data
Changes to GCSE Grading Structure, Controlled Assessment (Coursework), Exams and Revision
GCSE subjects are now awarded a numeric result grade instead of a letter grade. Students studying Combined Science will receive a combination of numbers e.g. 9-9, 7-6 reflecting the two distinct elements of the qualification.
Students will no longer complete written Controlled Assessment (Coursework) tasks however students will continue to complete field work and focus studies in certain subjects. This research will be included in the formal examinations which students will sit at the end of Year 11. There will continue to be a practical assessment element within Art, Digital Photography, DT, Music, Drama and PE.
The new style exams contain more challenging content and are taken at the end of the course. The assessment is now mainly by examination, non-exam assessment is only where necessary. Foundation and higher tier entries are permitted only in maths, science and modern foreign languages.
With the vast majority of assessment now taking place at the end of the courses in Year 11, students must ensure their note taking and revision resources are accurate and up-to-date. The school would recommend students revising and reviewing their learning throughout Years 10 and 11. Students must ensure they know the course content of all non-core subjects and make good use of revision material and past papers held on the Learning Zone, GCSEpod and exam board websites.
The table below illustrates the GCSE grading structure changes that were implemented in 2016.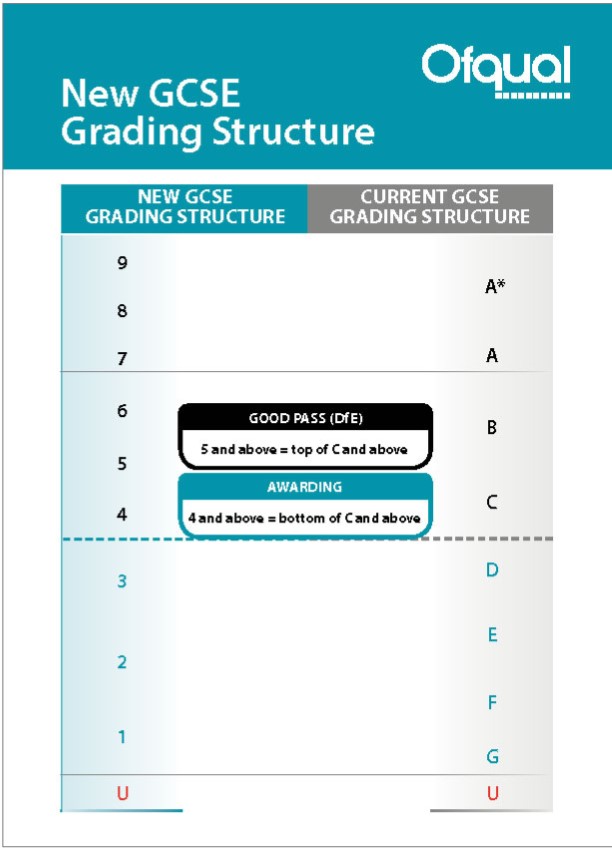 School Performance Measure – Progress 8
In 2016 the government introduced a new range of school performance measures, these include Attainment 8 and Progress 8. The new performance measures are designed to encourage schools to offer a broad and balanced curriculum with a focus on an academic core at key stage 4, and reward schools for the teaching of all their pupils well, measuring progress across 8 qualifications from age 11 to 16.
Attainment 8
Attainment 8 will measure the achievement of a student across 8 qualifications including mathematics (double weighted) and English (double weighted), 3 further qualifications that count in the English Baccalaureate (EBacc) measure and 3 further qualifications that can be GCSE qualifications (including EBacc subjects) or any other non-GCSE qualifications on the DfE approved list.
Progress 8
Progress 8 aims to capture the progress a student makes from the end of primary school to the end of secondary school. It is a type of value added measure, which means that pupils' results are compared to the actual achievements of other pupils with the same prior attainment. Every increase in every grade a pupil achieves will attract additional points in the performance tables. Progress 8 will be calculated for individual pupils solely in order to calculate a school's Progress 8 score, and there will be no need for schools to share individual Progress 8 scores with their pupils.
Please click on the following link to watch a short video explaining Progress 8 Progress 8 School Performance Measure The video can be found at the bottom of the linked page, following some of the DfE technical guides.
In addition to Attainment 8 and Progress 8, schools' are also to be measured in their performance of pupils attaining 'good' passes in the EBacc and Basics (English and Maths) measures.
For further information on these measures and how the school has performed against local and national standards, please go to the governments' performance tables comparison website at the following link Schools' comparison website