Exam Information
The examination success that the school enjoys is down to the hard work of students and staff alike. All students are entered for public examinations in Key Stage 4, with the students being thoroughly prepared through a whole set of mock and internal testing that is carried out throughout their time at Warneford.
Examination timetabling and entries are managed by Mrs Gibson in the Exams Office. We will always endeavour to publish examination timetables as early as possible to keep students and parents well informed. Students will be given a statement of entry as confirmation of the exams they are entered for, followed by a personalised examination timetable. Students should also check the exam noticeboard, in the Dining Hall, to check for final arrangements including details of specific equipment that they will need for each examination.
JCQ Regulations
Warneford rigorously follows the guidelines and regulations provided by the JCQ (Joint Council for Qualifications CIC) when conducting public examinations.
You will find below a variety of 'Information for Candidate' documents which are compulsory reading for all Warneford examination candidates.
Exam Policies
Students and parents should be aware of the Highworth Warneford Internal Appeals policy and Complaints and Appeals policy. School polices relating to Safeguarding, Data Protection, SEN and Equality & Accessibility can be found on the Policies Page of our website. A full list of examination policies can be found below.
Useful Websites
https://qualifications.pearson.com
Non Exam Assessments (NEAs)
NEAs are administered by subject teachers.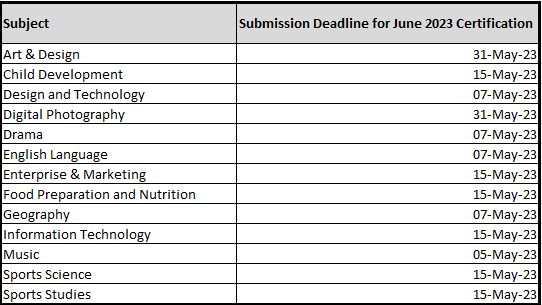 Exam Seasons 2022-23
November/December 2022 – Y11 Mock Exams - All GCSE & CNat Subjects
21/11/2022 - 2/12/2022 - Timetable below
January Series 2023 - Cambridge National Public Exams
10 - 11/1/2023 - Timetable below
Results Day for January 2023 – Cambridge National Public Exams
Exam unit results will be published on 16th March 2023.
March – Y11 Core Subject Mock Exams – GCSE English Language, Maths, Science
13-17/3/2023 - Timetable below
May/June Summer Series 2023 – GCSE and Cambridge National Public Exams
Please see timetable below
GCSE Drama Component 3: Texts in practice (practical)
24/3/23
GCSE Art & Photography Component 2: Externally set assignment
18/4/23 - Art Session 1
19/4/23 - Digital Photography Session 1
25/4/23 - Digital Photography Session 2
26/4/23 – Art Session 2
GCSE MFL Speaking Exams
2/5/23 – 4/5/23
GCSE/CNat Written Exams
15/5/2023 – 28/6/2023
Contingency Sessions for Summer Series 2023
The Awarding Bodies have designated the following exam sessions as contingency sessions, to be used in the event of national or local disruption impacting significantly on the exam timetable.
- Thursday 8 June 2023
- Thursday 15 June 2023
- Wednesday 28 June 2023
Candidates must remain available until Wednesday 28 June 2023 should examinations need to be rescheduled.
Results Day for Summer 2023
AS/GCSE/Cambridge National Exam Results will be available for collection on 24th August 2023.
Please click on the attachments below for further information for Exam Candidates in 2022-2023