Education Strategy Partnership
The Education Strategy Partnership (ESP) was formed in September 2017 and is a group of local schools who work collaboratively in the best interests of students in the Swindon area. We are committed to improving learning outcomes for around 4000 students, across all educational phases.
Currently the ESP comprises:
Secondary Schools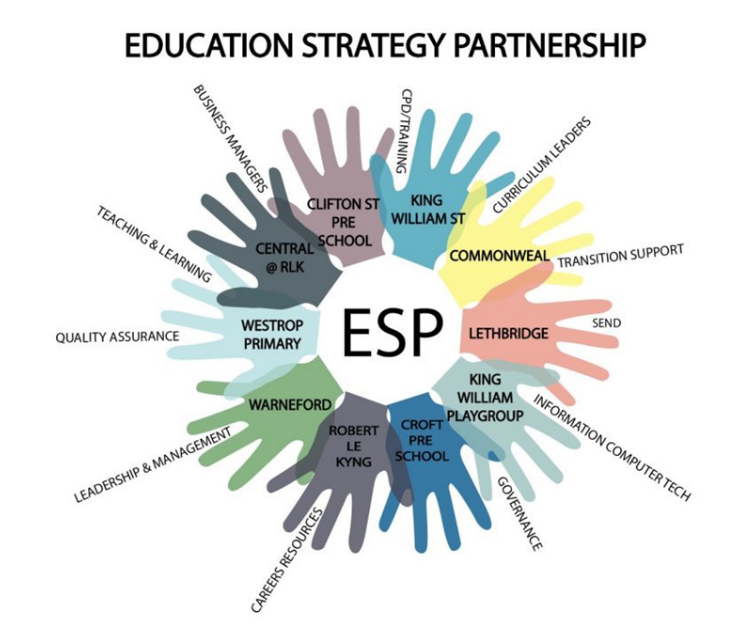 Highworth Warneford
Commonweal
Dorcan
Pewsey Vale
Primary and Playgroups
Westrop Primary
Lethbridge Primary
Robert Le Kyng Primary
King William Street Primary
Croft Playgroup
CENTRAL RLK Playgroup
King William Street Playgroup
Clifton Street Playgroup
What we do:
The core business of the ESP is to focus on strategies to improve teaching and learning but we recognise that, to achieve this, all aspects of our schools need to be considered.
Some current projects and support include:
Teaching and Learning
Progress of Boys
Transition Projects in Years 0 – 1 and 6 – 7 (literacy and numeracy focus)
MFL in primaries
Leadership and Management
Emerging Leaders courses
Support for new Heads/Chairs of Governors
NPQSL and NPQH support
SLT support
Regular meetings of Phase Heads
Performance management reviews
OFSTED preparation
Governance
Regular meetings of Chairs of Governors
Induction of new governors
Governance reviews
Bespoke governor training
Networking
SENCO meetings
Business Manager meetings
If you want more information, or wish to ask about joining the ESP, please contact Keith Defter (ESP Partnership Coordinator) using the email KDefter@commonweal.co.uk