Curriculum
The Curriculum at Highworth Warneford School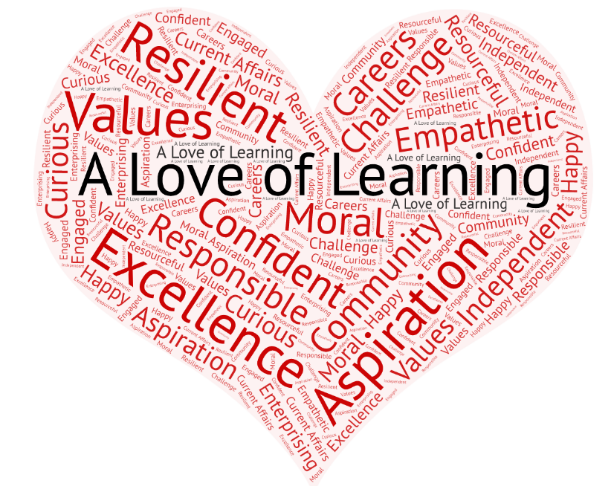 Our aim is to provide a well-rounded education that enables our students to acquire and develop the skills, knowledge, personal attributes and qualifications they will need for their future.
Therefore, we have designed and planned a broad, balanced and challenging curriculum that matches our students' ability, interests and aspirations.
Through a wide range of engaging, creative and exciting learning opportunities, we want to create confident, successful and ambitious students with the cultural capital to succeed in life.
This is seen in our school's vision:
OUR VISION
Excellence: every student must aim for excellence in everything that they do
Aspiration: students should aspire to do amazing things and not settle for just enough
Challenge: we will improve students' resilience and help them to adapt to face life's challenges
Values: our students will develop independence and confidence and become moral, curious and enterprising learners, leaders and adults
Community: the school is part of local, national and international community
Learning aims & objectives
Only high quality learning experiences, that engage and excite, will ignite a passion and secure a love of learning in our students that we want to last their lifetime.
Our full curriculum consists of all the following elements:
A broad and balanced range of subjects and courses with teachers who look for different and engaging ways to challenge students and support them in their learning - both in lessons and with homework and independent study.
Our Careers Programme – a comprehensive and supportive journey from Year 7 to Year 11 that requires students to think about their skills, interests and attributes as they learn about the choices and options at each stage of their life.
Personal, Social, Health and Economic education – a programme of study using a mixture of stand-down sessions, special events and lesson time to ensure our students are given the necessary information to be safe, healthy and moral. Student voice and local/national issues drive this curriculum.
A wide variety of curriculum-focused trips and other enrichment activities that enable students to experience learning in context.
Leadership opportunities across all year groups, with very high levels of participation.
Access to a wide range of supportive online materials and revision resources via our Learning Zone.
A broad range of extra-curricular activities and clubs to promote engagement beyond the school timetable. These include music, sport and drama as well as more unusual esoteric clubs such as Warhammer!
A clearly planned and focused series of assemblies.
Activities Week at the end of the summer term to allow for a completely different approach to learning.
Excellent SEN/pastoral structures to support mental health, learning needs and "catch-up" from primary.
Academic interventions and a comprehensive revision support programme.
A primary to secondary transition programme that looks at academic as well as pastoral needs to ensure students "hit the ground running".
Additional opportunities – we are very lucky that we have staff who are willing to spend weekends and holiday time enriching students' learning in other ways such as the Duke of Edinburgh Award and residential trips.
What we are looking for
We want our curriculum to engage our students, make them happy, active learners and ensure that they are working harder than the teachers!
This requires:
Interesting, relevant content
Engaging delivery
Links to current affairs and global issues
Time to explore ideas and have discussions
Opportunities for creativity and genuine thinking
An understanding that literacy and numeracy pervade all aspects of learning
A chance to work in teams
Awareness of future progression
We do not want our students' time to be taken up with passive "clerical tasks" such as copying that give few or no opportunities for actual learning.
context and response
Highworth Warneford School is a mixed 11-16 academy. It is the only secondary school in Highworth, a small market town. Around 50% of the students come from Highworth itself, with the rest travelling mainly from North Swindon. In total, students from around 15-18 different primary schools make up any one year group.
Despite being a fully comprehensive school, the vast majority of our intake are upper or middle prior attainers meaning that, for the most part, a broad range of GCSEs are the most appropriate qualification at the end of Year 11. Variation in access to different parts of the curriculum is rare and based on the specific needs of individuals.
As an 11-16 provider, we work very hard to ensure that our students understand about all of the different post-16 opportunities and give completely free access to all providers to share their offers.
Swindon is an area of low unemployment but also low productivity and low levels of self-employment. There has been a massive expansion of labour-intensive jobs but there are very few high-skilled posts compared to the national average. Local employers have stated that there are two main skills gaps: digital and operational. STEM-based employers often have to recruit from outside the local area. There is virtually no Higher Education provision and plans for university in the town have not come to fruition. Therefore:
There is a key role for the school to play in raising aspirations
Access to all STEM subjects is maintained throughout the school's curriculum
A digital skills course called iDEA is followed by all students at KS4
curriculum review and development
A review of curriculum structures (including option subjects) takes place every year and, most recently, we have made the following changes:
Increased the amount of MFL in Year 8 to allow some students to study two languages in depth before making a choice about taking a single language from Year 9.
Introduced a GCSE Citizenship course at KS4 to match students' interests and ability.
Increased the amount of Core PE time at KS4 to help to maintain health and fitness.
Changed option courses in both Sport and Business/Enterprise to make them more relevant.
Introduced a Life Skills course for a targeted cohort at KS4 to support their personal development and maintain engagement across the curriculum.
Changed the curriculum structure to allow our most able mathematicians to have access to higher levels of coding within Computing in Year 9.
Implemented compulsory extended writing in all subjects at KS3.
Introduced a specific PSHE lesson into Year 7 rather than rely solely on stand-down days.
Timetable Structure
We have a two-week timetable that provides the structure we need to deliver our curriculum.
There are five one-hour lessons, a twenty-minute tutor session and a forty-minute lunch break each day.