ROCK OF AGES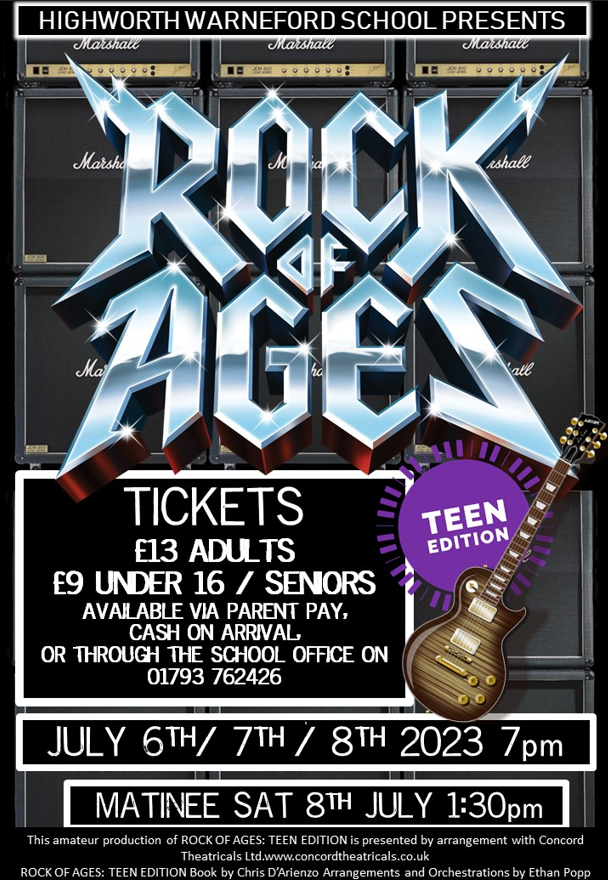 Warneford Theatre proudly presents: ROCK OF AGES - THE MUSICAL! (Teen Edition)
Don't stop believin' because when you Just can't fight that feeling anymore, and you really Wanna rock and Feel the noize, you know what to do! Book your tickets now! Performances are as follows: Thurs July 6th - 7pm / Fri July 7th - 7pm / Sat July 8th - 1:30pm & 7pm
Featuring many awesome rock anthems from the 1980's, this will be a fantastically fun experience! The show run time is 2hours and 45 mins with an interval. The show is suitable for all ages, although children under the age of 5 or 6 may find it a little loud or scary in places.
Tickets can be purchased from parent pay, or by phoning / reserving at the office (01793 762426) to pay cash on the night:
£13 Adults / £9 Children under 16 / Warneford Students / Seniors over 60 / Staff

Thank You for your support and we look forward to Rockin' out with you at one of the shows!