GCSE Results Press Release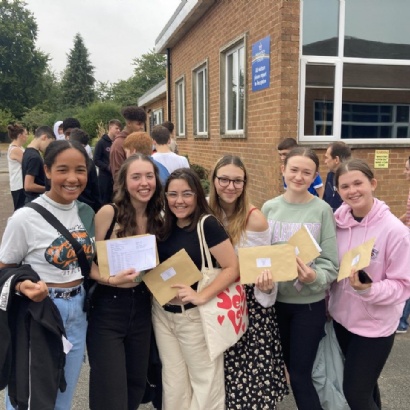 Once again Highworth Warneford School is celebrating excellent GCSE results. Students' progress is strong across a wide range of subjects.
Headteacher, Andy Steele said, "Nobody could have foreseen the circumstances faced by students, staff and parents over the last two years and I am absolutely delighted by the outcomes that have been achieved. We have all had to adapt how we have worked. By facilitating on-line teaching and learning, catch-up tutoring, focussing on revision techniques and exam question mastery, I really feel that the tenacity and endeavour of students and staff has been rewarded."
This year's cohort have been a real credit to our school and many of the individual achievements have been tremendous. Well done to the Class of 2022.
Although all students have much to be commended on some have produced some absolutely exceptional results:
Bo Yeates – 9 Grade 9s, 1 Grade 8 and an "A" at AS Mathematics
Heather Patton – 7 Grade 9s, 2 Grade 8s and a Distinction Star.
Thomas Whittaker – 6 Grade 9s, 3 Grade 8s and a Distinction Star.
Oliver Barefoot – 4 Grade 9s, 3 Grade 8s, 1 Grade 7 and 2 Grade 6s
Poppy Howarth-Barnes – 4 Grade 9s, 2 Grade 8s, 2 Grade 7s, 1 Grade 6 and 1 Grade 5.
Jasmine Simpkins – 3 Grade 9s, 4 Grade 8s and 3 Grade 7s
Further Information available from Mr Steve McKinstry (Deputy Headteacher)
Tel: 01793 762426 smckinstry@warnefordschool.org